IN BRIEF
...short articles in their entirety from various ASCP fields
OMEGA CP TRAINING BEGINS IN UZBEKISTAN
In June ASCP-related workers launched Omega Course (practical church planter training) in the Uzbek language. Although they had been teaching various parts of Omega for some time, the entire course had not been available to a broader audience. Workers invited a number of key expats and nationals to a gathering where they explained what Omega was all about, how they could benefit, and how the training could be done together in partnership. By all accounts the time was appreciated with participants expressing interest in seeing the training of new church planters. The first manual is now in the hands of seven people who will make final corrections to the translated material. In August Omega training in small groups will begin.

--shared by an ASCP related worker in Central Asia; for more information on Omega Course, click here:

THOUGHTS ON CP FACILITATION BY
RUSSIAN CHURCH PLANTING LEADER
The most strategic ministry of expatriate workers is to build relationships with nationals, particularly those to whom God has already given a vision for SCP. They should help nationals understand their gifts/talents, and what their part could be in seeing a movement of churches. Work side-by-side in partnership, filling the gaps of weakness of nationals. Expatriate workers go deeper with fewer people, and help nationals with extremely practical, non-theoretical resources (such as counseling skills and discipleship skills ... not curriculum per se, but life-on-life modeling). They should get to know people well, earning the right to be heard and strongly support those regions where things are working. Where someone has discovered principles that are working, help others understand and learn from what has been done.

--from an upcoming report prepared by ASCP related missionaries on the future of SCP ministry in Russia
UPCOMING EVENTS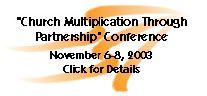 Early Registration Deadline - August 15, 2003
Fall Alliance Field Leaders consultation
September 11-13, 2003 in Budapest . . . gathering of ASCP related church planting facilitators and national partners for refreshment, prayer and ongoing equipping. The theme for this AFL is "Principles of church multiplication FROM TWO MEN WHO ARE DOING IT"
Click here to learn more about Tom Clegg, AFL presenter
More information: http://www.alliancescp.org/events.html
Saturation Church Planting Seminar
in the U.S.
August 19-22, 2003
Union Mills, NC
This seminar instills the vision for reaching nations for Christ, not just establishing a few churches, a new paradigm in church-planting thinking which goes beyond addition to saturation. Skills for networking and facilitating ministry with nationals are considered. A must for those planning to minister in Eastern Europe with the Alliance for Saturation Church Planting.
Tuition: $190
More information:
Center for Intercultural Training
Union Mills, NC
800-887-1786
www.cit-online.org
citmail@cit-online.org
IN DEPTH
...more extensive articles found via link to the ASCP website
PRESENTATION OF HUNGARIAN CHURCH PLANTING RESEARCH
Hungarian church leader Dr. György Kovács recently completed research on the "mission situation" in Hungary. To communicate the power of this research, Ed Nickle (United World Mission Eastern/Central Europe) prepared a PowerPoint presentation for Dr. Kovács that he is able to use throughout the country when sharing the results of his information.
Click here to review one effective model of communicating the results of saturation church planting related research.
DOWNLOAD ONLY WITH A HIGH SPEED CONNECTION,
FILE >5MB
IN PLAY
... articles which encourage interaction on various topics related to SCP
"WHAT I'M LEARNING" . . . thoughts from ASCP executive director, Lee Behar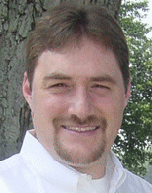 Lee and Brooke Behar completed their relocation to Budapest in February. Lee acts as Executive Director of the ASCP as well as its Regional Resource Team leader. Lee comes to this role with many years of experience on the staff of a large and growing local church, but living and working in Budapest represents his deepest engagement in the cross-cultural facilitation of church planting. Because of his steep learning curve, Lee wants to share the things he's hearing from ASCP related workers in different parts of the region. National church planting leaders and expat facilitators have become Lee's greatest teachers.
Follow this link to learn about and respond to the lessons he's learning.
Questions?
North America
Bernie Miller, Assoc. Director
P.O. Box 843,
Monument, CO 80132
Tel: (719)488-4172 or
(800)649-2440
Email: BMiller@gemission.com
Field
Jay Weaver, Director of Field Ministries
1111-Budapest Budafoki ut 34/B, III/3 Hungary
Tel: +36 1 466-5978
Email: Jay.Weaver@WorldTeam.org