IN BRIEF
...short articles in their entirety from various ASCP fields
CLEGG INSPIRES FOR CHURCH MULTIPLICATION
At this month's Alliance Field Leaders consultation, church planter/trainer/multiplier Tom Clegg (click here for bio) shared his journey of moving from being a successful church planter to a multiplier of churches.  Tom and his wife Jodi are the founders of a US-based house church movement which enjoys (by God's grace) 100% conversion growth . . . approximately 18 groups and 360 people at various stages on their spiritual journey.
Among numerous practical ideas, stories and models, Tom also shared the following "axioms for church planting" . . .
The only viable future that the church has is in the multiplication of churches.  Be careful that we do not impose yesterday's paradigm on today's and tomorrow's church plants.

You will naturally not like most church planters.  They are not "company" people.  Rarely are they the best seminary students, and they don't prosper in highly structured systems.

Raising and releasing church planters is first and foremost a faith test.  The longer it takes to train church planters the less multiplication there will be.

Funding is not a fixer for flawed character or flawed strategy.  Fix it before you fund it!

The more we separate evangelism from discipleship the less apt we are to multiply ANY kind of ministry, especially church multiplication.

Most funding strategies for church planting are backwards.  Money begins big and then it tapers off, which is the opposite of the "Parable of the Talents".  Start with a little money and build it as the church planter's effectiveness grows.

The multiplication of churches will deconstruct your eccliesiology.

Never forget that Jesus loves the church in all of her forms.  Learn to bless and not to curse.  Affirm where the church gets it right.  Bless the other churches in your city, even State churches and historic churches.
To learn more about Tom Clegg's book Lost in America, please follow the following link to amazon.com . . .

UPCOMING EVENTS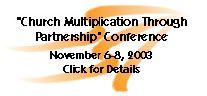 Registration Deadline - September 30, 2003
Hotel Reservation Deadline - October 14, 2003
(late registration is available...click here to download conference brochure)
IN DEPTH
...more extensive articles found via link to the ASCP website
ALLIANCE FOR SCP WELCOMES NEW BOARD CHAIRMAN

Wayne Hannah's term as the new chairman of the Allianceboard began on September 1.  To learn more about Wayne and his ministry, please click here.
IN PLAY
... articles which encourage interaction on various topics related to SCP
"WHY DO CHURCHES FAIL?"
by Don Crane, Greater Europe Mission

Movements become institutions and institutions become monuments.  This often repeated phenomenon is also true of most churches.  In fact it was true of several of the churches established during Paul's time in Ephesus.  By the time John wrote chapters 2 and 3 of Revelation most of the churches were already on their way to becoming monuments.  How does that happen with the Church?  What is the road to failure? Follow this link to read the rest of this article.
Questions?
North America
Bernie Miller, Assoc. Director
P.O. Box 843,
Monument, CO 80132
Tel: (719)488-4172 or
(800)649-2440
Email: BMiller@gemission.com
Field
Jay Weaver, Director of Field Ministries
1111-Budapest Budafoki ut 34/B, III/3 Hungary
Tel: +36 1 466-5978
Email: Jay.Weaver@WorldTeam.org