IN BRIEF
. . . short articles in their entirety from various ASCP fields

CHURCH PLANTER MURDERED IN TAJIKISTAN
Church planter and pastor Sergey Besarab was shot and killed on January 12, shortly after the conclusion of a youth service inIsfara,Tajikistan, a city in the northern part of this traditionally Islamic nation.
The Isfara church, with regular attendance of about 30, had recently completed the construction of a church facility and received official registration from the local government.  Because of this progress, Sergey and wife Tamara were looking forward to additional ministry opportunities in the surrounding neighborhoods including evangelistic outreaches and programs focused on ministering to the city's youth.
Sergey and Tamara moved to Isfara fromDushanbe(the capital city) to continue the ministry of other church planters.  Sergey became a Christian while serving time inDushanbe's prison system, and after his release, dedicated his life to Christian ministry.  Regular church planter and pastoral training were part of Sergey's ongoing preparation.
At approximately9:00 p.m.local time, automatic weapons were fired into the building where Sergey was playing the guitar and singing.  Though, he was struck and killed immediately, the gunfire continued.  Eventually another man inside the facility managed to turn off the lights and the survivors lay on the floor until the shooting ended.  Sergey was the lone fatality in the attack.
Please pray for this young church and pray for faith of those involved in ongoing church planting ministry in northernTajikistan. There are now three churches in this region (including the Isfara church) and 11 evangelistic groups.
Compiled from various reports.  Click here for more details on Sergey's murder from the FORUM 18 news service.
IN DEPTH
. . . more extensive articles found via link to the ASCP website

The mission of Grace Fellowship Church (Johnson City, TN) is "Building a Community to Reach a Community."  With that motto in mind, representatives from GFC recently visited CzechRepublic.  Their purpose was to explore opportunities to help facilitate church planting movements in this gospel-impoverished country.  One vignette from their "vision trip" is captured in the following story by Larry Nees, GFC's missions pastor.  Click here to read Larry's narrative of this God-ordained encounter.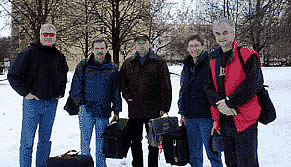 GFC representatives and Don Harris (ASCP Czech leader) visit with Czech church planters in Havirov
IN PLAY
. . . articles which encourage interaction on various topics related to SCP
"WHAT KIND OF CHURCHES ARE FULFILLING YOUR SCP VISION?"
by Rich Correll
Rich Correll is founder and president of Church Planters' Training International (CPTI) and has worked in Russia, Ukraine, and the Republic of Georgiamobilizing national church panters.  Using vocational training and vision conferences, CPTI helps empower indigenous church planting movements.  Click here to read about Rich's approach to answering this critical question.
To interact with Rich Correll on this article, email: richcpti@cs.com
UPCOMING EVENTS
Alliance Field Leaders' Consultation
September 16-18, 2004
Budapest,Hungary
Details to come . . .
ANNOUNCEMENTS
Omega Course Giveaway
Because of the popularity of Omega Course (practical training for church planters) in electronic form, the ASCP must liquidate its paper stock of English manuals (five-manual sets).  The ASCP offers these manuals for FREE if you will pay the actual shipping/handlings costs to your USAaddress.  You may even request whole cases (approximately 15 copies of one manual).  Consider receiving and storing extras for your own at-cost distribution.
Please contact Christine Powers at Bible League, to arrange payment and shipping; cpowers@bibleleague.org
tel. (708) 367-8560.
The same offer applies to other ASCP hard copy resources, Prayer that Strengthens and Expands the Church and Mentoring Guidelines for Church Planters.  Click here for more information on these resources.
Questions?
North America
Bernie Miller, Assoc. Director
P.O. Box 843,
Monument, CO 80132
Tel: (719)488-4172 or
(800)649-2440
Email: BMiller@gemission.com
Field
Jay Weaver, Director of Field Ministries
1111-Budapest Budafoki ut 34/B, III/3 Hungary
Tel: +36 1 466-5978
Email: Jay.Weaver@WorldTeam.org