IN BRIEF
. . . short articles in their entirety from various ASCP fields

CHURCH MULTIPLICATION LEARNING COMMUNITY
Participants in September's Church Multiplication Leadership Community are considering the challenge of David Garrison to "live the vision" of church planting movements. To "live the vision" means to be personally involved in the multiplication of believers, disciples, leaders and churches. In his seminal book Church Planting Movements, Garrison documents 10 elements consistently present in church planting movements (CPMs). These elements include . . .
Extraordinary Prayer
Abundant Evangelism
Intentional Planting of Reproducing Churches
The Authority of God's Word
Local Leadership
Lay Leadership
House Churches
Churches Planting Churches
Rapid Reproduction
Healthy Churches
To assist those interested CPMs, Garrison has designed a "gap analysis" tool. The tool helps CPM practitioners and wannabes understand the readiness of their context for CPMs on the basis of these 10 elements. Follow this link for a copy of the "gap analysis" tool.
IN DEPTH
. . . more extensive articles found via link to the ASCP website

"Barnabas for church planting in Slovenia" is a team of Slovenes and expatriates focused on the saturation of Slovenia with believing and witnessing fellowships. The Barnabas team publishes a bi-monthly prayer newsletter to help foment prayer for theSloveniasaturation church planting vision. Follow this link to the September/October edition of Molimo za Slovenijo ("Pray for Slovenia").
IN PLAY
. . . articles which encourage interaction on various topics related to SCP

Durwood Snead is Director of World Missions at North Point Community Churchin Alpharetta, Georgia, USA. North Point (an Alliance for SCP partner) has strategic partnerships with national evangelical leaders in eight countries who are building relevant ministries in their countries and teaching others what they are learning. Follow this link to Durwood's article:
"The Church - Irrelevant or Irresistable?"
Email Durwood to interact with him on the topic of building a relevant church.
RECOMMENDED RESOURCES
Church Planting Movements, David Garrison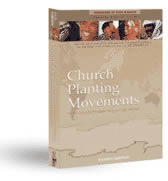 Cultivating a Life for God, Neil Cole 

Questions?
North America
Bernie Miller, Assoc. Director
P.O. Box 843,
Monument, CO 80132
Tel: (719)488-4172 or
(800)649-2440
Email Bernie Miller
Field
Jay Weaver, Director of Field Ministries
1111-Budapest Budafoki ut 34/B, III/3 Hungary
Tel: +36 1 466-5978
Email Jay Weaver