IN BRIEF
. . . short articles in their entirety from various ASCP fields

CHURCH PLANTING MOVEMENT IN EASTERN EUROPE?
Christian Hope Church is the flagship of a relatively new denomination called the Union of Missionary Churches of Ukraine. Christian Hope has an aggressive church planting vision . . . to start at least 30 witnessing, multiplying fellowships each year. Has a church planting movement begun in Eastern Europe? If so, it would be among the first in post-communist Eurasia. Make your own evaluation by reading and interacting with the articles below. Feel free to email your feedback and analysis for publishing in future editions of Interchanges.
IN DEPTH
. . . more extensive articles found via link to the ASCP website

What is the story behind Christian Hope's church planting vision? In her article, Army Officer to Kingdom Leader, Leah Moore tells the story of Valeiry Alimov, visionary leader of its church planting ministry. Learn how God uniquely prepared Alimov for his role and how, through his leadership, dozens of new churches have been planted in recent years.
IN PLAY
. . . articles which encourage interaction on various topics related to SCP

What principles do Christian Hope's leaders follow that create an environment for church planting movement? In Principles of Church Multiplication in Ukraine, Leah Moore describes four "efficiencies" that help Christian Hope equip church planters with the tools, attitude and approach they need to be effective.
RECOMMENDED RESOURCES
The Shaping of Things to Come,
Michael Frost & Alan Hirsch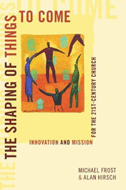 Questions?
North America
Bernie Miller, Assoc. Director
P.O. Box 843,
Monument, CO 80132
Tel: (800) 649-2440
Email Bernie Miller
Field
Jay Weaver, Director of Field Ministries
1111-Budapest Budafoki ut 34/B, III/3 Hungary
Tel: +36 1 466-5978
Email Jay Weaver